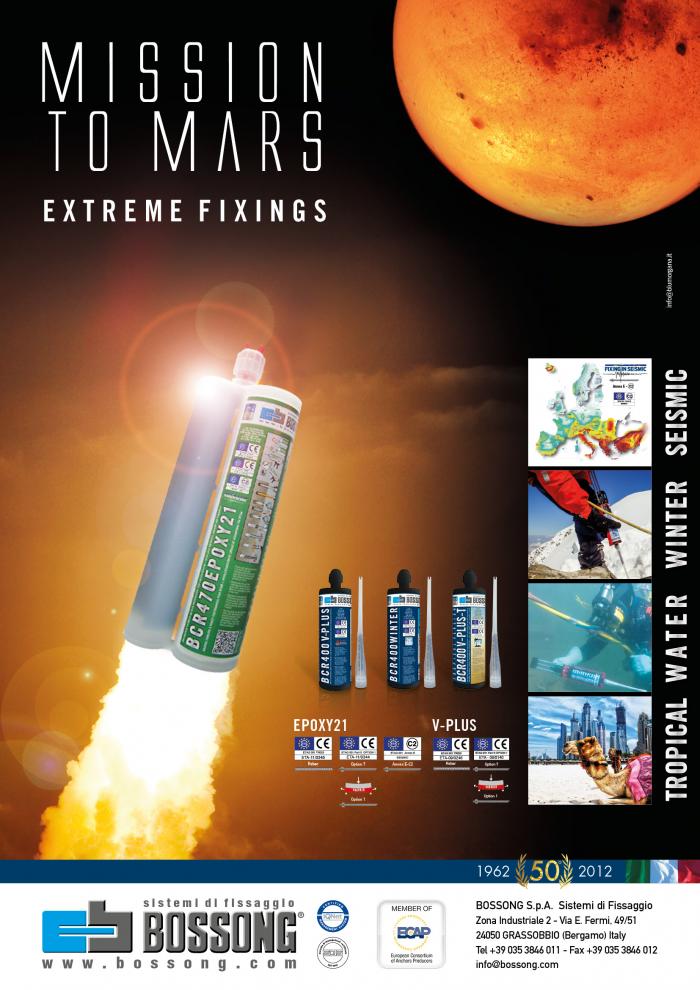 MISSION TO MARS
Fixing in extreme conditions with Bossong vinylester and pure epoxy resins. High quality and Top performance. Link to the resin and download technical data sheet. ETA approvals to be required to Bossong Technical office: tek@bossong.com
One of these products is the pure epoxy resin tested for structural fixing in areas of high seismic activity (C2 category).  As is evident, areas such as Italy fall almost entirely in the C2 category. In this field Bossong, which has always considered the secure design of buildings as a priority, has implemented, according to the criteria of the ETAG-001, Annex E, the European qualification of the EPOXY 21 chemical anchor in the seismic areas in category C2. The product is therefore suitable for applications of a structural and non-structural nature and for all levels of seismic activity.
Another resin for extreme anchoring is a styrene-free bi-component vinylester product for fixing heavy loads in V-PLUS concrete. Bossong sytrene-free bi-component vinylester resin is suitable for fixing heavy loads in concrete, solid masonry, hollow bricks and wood. V-PLUS TROPICAL version is able to work at very high temperatures, up to +50°C. This resin has obtained ETA-09/0140 Option 7 approval for non-cracked concrete and OPTION 1 approval for installation in cracked concrete with standard threaded rods. V-PLUS TROPICAL has also obtained the European Technical Assessment ETA-09/0246 for Rebars with improved adherence for post-installed rebar connections in reinforced concrete. Chemical anchor V-PLUS WINTER version with double CE-ETA certification. Bossong sytrene-free bi-component vinylester resin is suitable for fixing heavy loads in concrete, solid masonry, hollow bricks and wood. Special formulation for applications in the winter season up to -20°C of ambient temperature. Fast curing time even at low temperatures. The installation of equipment has been carried out on Mont Blanc for scientific purposes.
Both V-PLUS and EPOXY21 anchors have been further tested for UNDERWATER fixing, certified with extraction tests in situ in Marseille, carried out by a specialised team for works in the marine and port environment. The goal of the underwater test is to verify the possibility of guarantee of the chemical seal performance of some cartridges of Bossong vinylester and epoxy resin in an underwater environment. We have proceeded to the definition of an installation procedure in collaboration with companies that carry out underwater operations by integrating their needs to those of ETAG regulations for anchorage in dry, wet and with flooded hole environments. The tests were conducted at the National Institute of Professional Diving in Marseille, to take advantage of the resources, skills and know how of the INPP.  Even the aspect of underwater perforation has been approached and studied in order to add it to the test procedures with all the applicable specifications. The fundamental principle of the test was the validation of the installation procedure and optimisation of the time of exposure for the setting procedures, identifying the appropriate hardware. Basic data have been collected for comparison with standard configuration data shown in the ETA (European Technical Assessment). Lastly, we were able to draw up a test protocol for the fixing of resins in an underwater environment with pull-out tests that have given outstanding results.
Data di riferimento:
Friday, 29 April, 2016 - 09:30